A BREATH OF FRESH AIR NAMED "TASTY & HEALTHY" OF VIETNAMESE CULINARY
Tuesday, 10:43 Day 07/12/2021
On July 1, 2017, New Pearl Investment Corp. (New Pearl) officially launched the first restaurant in the restaurant chain under the brand of Chang Kang Kung - Hydrothermal Steaming Restaurant at Crescent Mall shopping center – creating a new culinary trend in Vietnam: Hydrothermal steamed seafood using modern technology.
The first CHANG KANG KUNG restaurant has "launched" and impressed the culinary market with its main menu of fresh seafood cooked by hydrothermal steaming method - the most pre-eminent food processing method which has long been loved and popularised in Asian countries such as China, Korea, Japan, etc. thanks to its ability to fully preserve precious minerals and nutrients found in the food.
Especially in the modern life, thanks to its many advantages, the steaming method is more and more popular. In the past, people struggled to keep warm and well fed. Then, when the society & economy was more developed, the need for nice clothes and delicious food was formed. And now, people want not only delicious and nutritious food, but also food for health and beauty.
Perhaps that's why, despite being launched in Ho Chi Minh City for just a short time, Chang Kang Kung - Hong Kong Hydothermal Steaming, the first restaurant using Hydrothermal Steaming technology in Vietnam has really brought a breath of fresh air to Vietnamese cuisine.
During hydrothermal steaming, diners can also cook the porridge. The restaurant has porridge served with salted eggs, pork ribs, red tilapia, etc. and rice is included. The rice just need to be put in the bottom of the pot, the device in the middle of the pot will automatically pump water, just enough. While the food above are steamed, the nutrients shall follow the water to follow down into the porridge without any loss. After diners enjoy the steamed dishes, they will have a pot of delicious and nutritious porridge at the end of the meal.
The restaurant's menu is rich with macrobiotic dishes, balanced among meat - vegetables - carbs for customers to choose. Meats include bantam chicken, American beef. Side dishes include mushrooms, fresh vegetables. Dimsum dishes include lotus leaf sticky rice, seafood rolls, shrimp dumplings, etc. Especially, there are different kinds of fresh seafood such as eel, crab, lobster, shrimp, Norwegian salmon, crispy fish, New Zealand green mussel, scallops, etc.
With the advantage of preserving the nutrients of ingredients to keep the dish highly nutritious, hydrothermal steaming technology has been developed in many countries, especially popular in Singapore, Hong Kong, and Taiwan. This technology contributes to replacing traditional cooking methods, which need to use fats and oils containing large amount of cholesterol. Hydrothermal steaming overcomes the above disadvantages, and also welcomes the trend of diners, providing not only delicious and nutritious food but also food for health and beauty.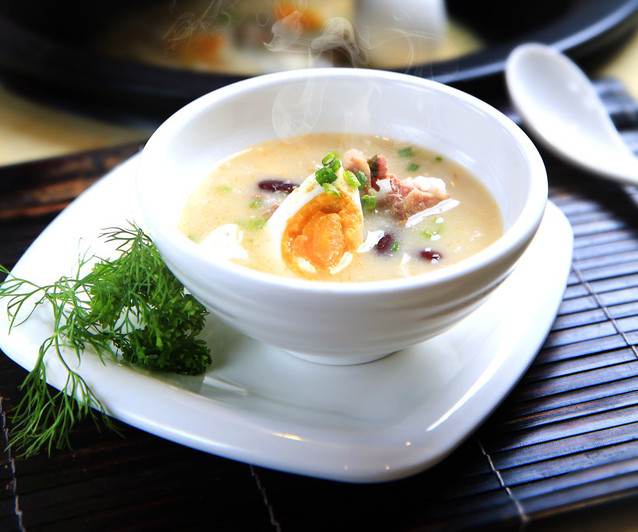 Such special attributes helped Chang Kang Kung conquer a large number of diners and really became a destination not to be missed during the holidays at the end of this year.